EastEnders
EastEnders boss Chris Clenshaw confirms big new story for Jack and Denise
One of them will do something they'll regret…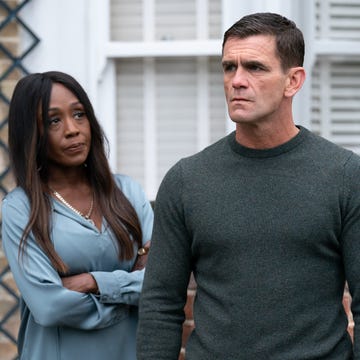 EastEnders spoilers follow.
EastEnders boss Chris Clenshaw has confirmed a new story for Jack and Denise will air this autumn.
The couple have had a difficult time this year, as Jack has struggled to forgive Denise for nearly cheating on him with bad boy Ravi Gulati.
The couple have been dragged further into Ravi's dark world through his previous relationship with Denise's daughter Chelsea Fox — and they've also had to come to terms with Jack's son Ricky Jr becoming a teenage father.
With Denise's involvement in the Christmas death mystery also still to come, producer Chris Clenshaw has hinted to Inside Soap that there are difficult times ahead for the Fox-Brannings.
"Denise and Jack have had a really rocky year because of what happened between her and Ravi at the hotel — and because of what happened with Amy, and what's been going on with Ricky Jr," Clenshaw told the magazine.
The producer went on: "Everything seems to have settled down for them at the moment, but as we move through the autumn, things in their marriage aren't as healed as one would like, or would hope, and it does lead to one of them doing something they'll regret.
"I'm excited about that one."
There's no telling what the couple could be getting up to, but their marriage may also be shaken by the reappearance of Sam Mitchell after months away from Walford.
It was recently reported that cast member Kim Medcalf was recently spotted at Elstree Studios, meaning Jack's (occasionally vengeful) ex Sam may soon be back on screens.
EastEnders airs on Mondays – Thursdays at 7.30pm on BBC One. The show also streams on BBC iPlayer.
Read more EastEnders spoilers on our dedicated homepage